The Lifeline of Coastal Waters (why seagrass matters)
Seagrasses hold significant importance for a multitude of reasons:
Seagrasses serve as a primary food supply for various marine life forms, encompassing fish, shrimp, crabs, and other invertebrates. These underwater meadows offer nourishment and refuge to a diverse range of marine creatures, creating a sheltered haven from both predators and environmental elements.
Fish: sea bass, flounder, mullet, sea trout, snapper
Shrimp: pink shrimp, white shrimp
Crabs: blue crab, stone crab
Invertebrates: sea urchins, sea stars, snails, worms
Seagrasses play a pivotal role in enhancing water quality. By absorbing nutrients present in the water, they actively lessen the propagation of algae blooms and enhance water clarity. In addition, they fulfill a crucial filtration function, extracting pollutants from the surrounding water. Seagrasses can remove up to 90% of the nitrogen and phosphorus from the water column.
In terms of ecological stability, seagrasses function as natural shoreline protectors. The intertwining roots of these plants bind sediments together, thus thwarting erosion by up to 90%, particularly during severe weather conditions such as storms and hurricanes.
Seagrasses also contribute to carbon storage. These plants store carbon within their leaves, stems, and roots, serving as a feasible strategy in counteracting climate change. They can store up to 10x more carbon than a rainforest of the same size.
Economically, seagrasses wield substantial influence. They bolster various commercial and recreational fisheries, fostering thriving industries. Furthermore, they cultivate opportunities for tourism and recreation, further increasing their value.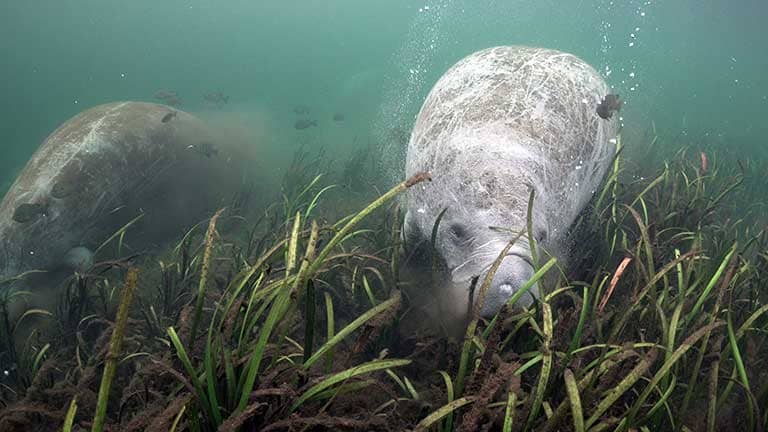 The Growth and Flourishing of Seagrass Ecosystems (how does seagrass grow)
Seagrasses thrive in shallow waters, relying on clear, nutrient-rich waters with plenty of sunlight for photosynthesis. Their preferred depth is typically within 60 feet of the surface due to their sunlight requirement. While adaptable to diverse water temperatures, seagrasses favor a range between 68 and 86 degrees Fahrenheit for optimal growth.
Seagrasses exhibit growth both vertically and horizontally. Their leaves extend upwards, adeptly harnessing sunlight, while their roots extend downward into the sediment to extract essential nutrients. Remarkably, seagrasses can achieve a growth rate of up to 12 inches daily and have the potential to endure for as long as 20 years.
Seagrasses can reproduce both sexually and asexually. Sexual reproduction transpires through pollination: where one plant's pollen is captured by another plant's eggs. Conversely, asexual reproduction happens when a new plant emerges from a fragment of an established one.
Seagrasses need a number of things to grow and thrive, including:
Sunlight: Seagrasses are photosynthesizes, which means they use sunlight to create food. They need at least six hours of sunlight per day to grow and survive.
Water: Seagrasses need clean, clear water to grow. They are sensitive to pollution and can be damaged by excess nutrients, sediment, and toxins.
Nutrients: Seagrasses need nutrients to grow. They get their nutrients from the water column and from the sediment.
Sediment: Seagrasses need a soft, sandy substrate to grow. They can't grow on hard surfaces like rocks or concrete.
Temperature: Seagrasses can grow in a variety of water temperatures, but they prefer water that is between 68- and 86-degrees Fahrenheit.
Salinity: Seagrasses can grow in a variety of salinities, but they prefer water that is between 25 and 35 parts per thousand.
When seagrasses have all of these things, they can grow and thrive. They provide food and shelter for a variety of marine life, and they help to improve water quality. Seagrasses are an important part of the marine ecosystem, and it is important to protect them.